The people of Papua New Guinea were ready to party in honour of a special guest – the president of the United States.
Monday was even declared a public holiday, but now the guest of honour is a no-show.
Joe Biden was supposed to be the first US president to visit a Pacific Island nation on Monday, but he cancelled his trip and instead he will fly home to Washington from the G7 summit in Hiroshima to focus on domestic problems.
Papua New Guinea (PNG) is now welcoming US Secretary of State Anthony Blinken, but after six months of preparations, this is not the history making moment they'd longed for.
"It is going to be a disappointment for a number of the Pacific leaders who had made special arrangements to be in Papua New Guinea to meet with him," said Mark Brown, the Prime Minister of the Cook Islands and leader of the Pacific Islands Forum in a BBC interview.
Mr Biden was to be signing a security pact with PNG Prime Minister James Marape. It is now expected Mr Blinken will sign an agreement which gives US forces access to PNG airfields and ports.
But this is not a good time for the US to disappoint leaders in this resource-rich and strategically placed region.
Washington and Beijing are battling for influence in the Pacific and the US is already playing catch-up after what analysts describe as years of neglect.
The 15 independent nations manage around 20% of the world's oceans. These hugely important maritime routes were used in World War Two to transport supplies to Australia and New Zealand.
Western interests in the Pacific waned after the war, but Chinese investments in the region have grown.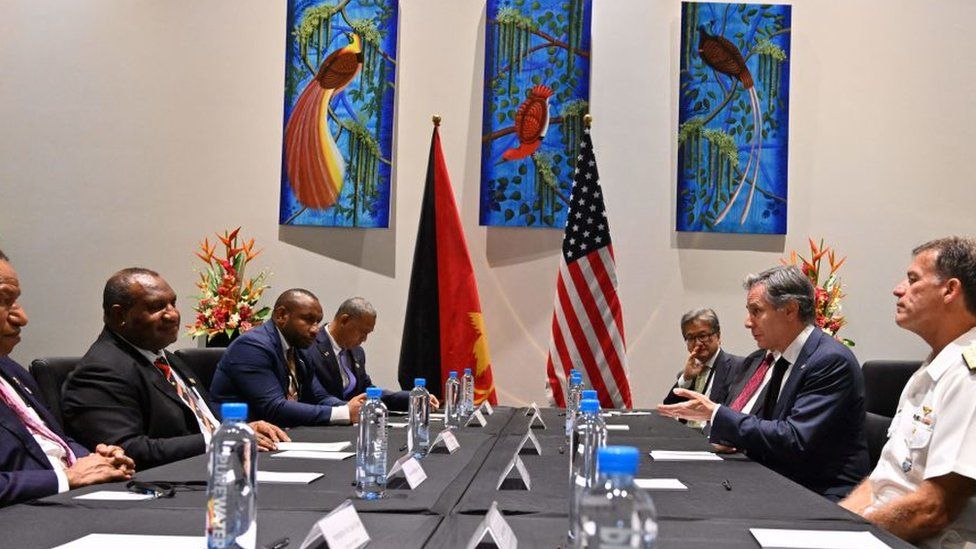 When Mr Blinken arrived in Port Moresby in PNG, he was driven on a six-lane highway built by China.
Last year the Solomon Islands signed a security pact with Beijing prompting fears that China could build its first military base in the region which would vastly increase the reach of its military.
"China has been filling a gap in the development sphere, helping Pacific countries achieve their development priorities."
He said the West was now showing "increased attention" in Pacific development needs. "I think we welcome that. But we also welcome the announcement by Secretary Blinken, in saying that he would like to see the US being the development partner of choice from Pacific countries."
But analysts fear Washington may have to do more to persuade the Pacific Island nations that they are serious about becoming partners.
Last year Fiji's acting prime minister told Secretary Blinken that island nations felt like "small dots" to Western leaders flying to meetings where they "spoke about us, rather than with us".
Beijing's President Xi Jinping showed up. He travelled to Papua New Guinea in 2018 – four years earlier he paid a state visit to Fiji.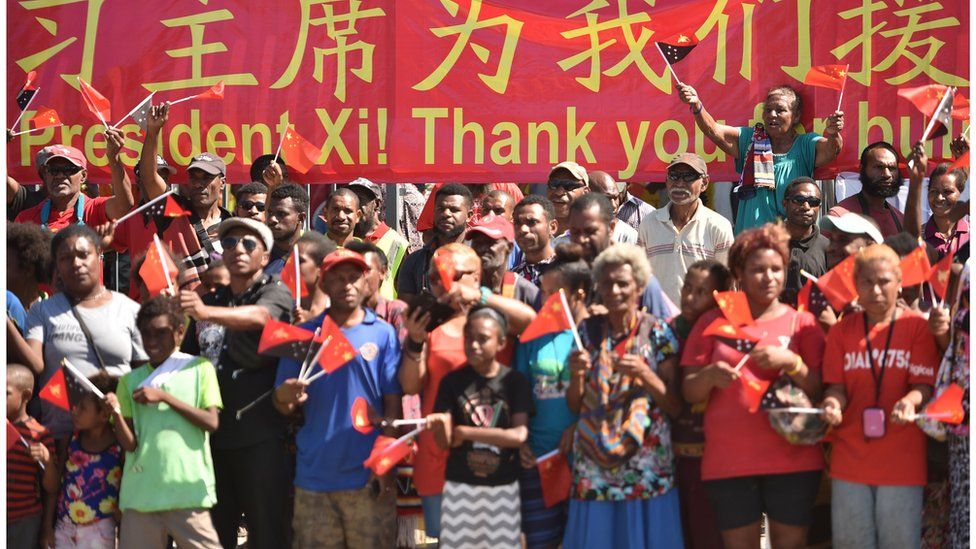 Washington has woken up to Beijing's growing presence in the region and earlier this year it re-opened its embassy in the Solomon Islands which had been shut for 30 years.
Australia too has embarked on a diplomatic push and its defence and foreign ministers have made recent visit to a number of island nations.
But while Pacific Island leaders welcome the attention, they have their own priorities.
"We don't want our region to be an area of adversarial challenge between our development partners – rather, we want to find areas of collaboration, where we can have the best support to achieve our development agendas and our climate agenda," Mr Brown said.
"The important thing is China and the US don't have to work together, they have to work with us. There is plenty of room for all partners to come into the Pacific and help us achieve our development agendas."
Instead of being caught between the two superpowers, the islands could benefit from this increased interest.
"Pacific governments are relishing their place in the sun," Gordon Peake, a senior adviser for the Pacific Islands at the United States Institute of Peace told the AFP News Agency.
"'Friends to all, enemies to none' is the informal foreign policy mantra of most Pacific nations and they're sticking to it, to great net effect."
The key for the Pacific Island nations will be getting the US and China interested in their priorities.
Cook Islands Prime Minister Mark Brown attended the G7 summit at the weekend as an extra guest where the leaders of the world's richest democracies stepped up their response to what they described as Beijing's rising military and economic threats.
But there was very little information about how the Group of Seven would tackle the world's climate crisis.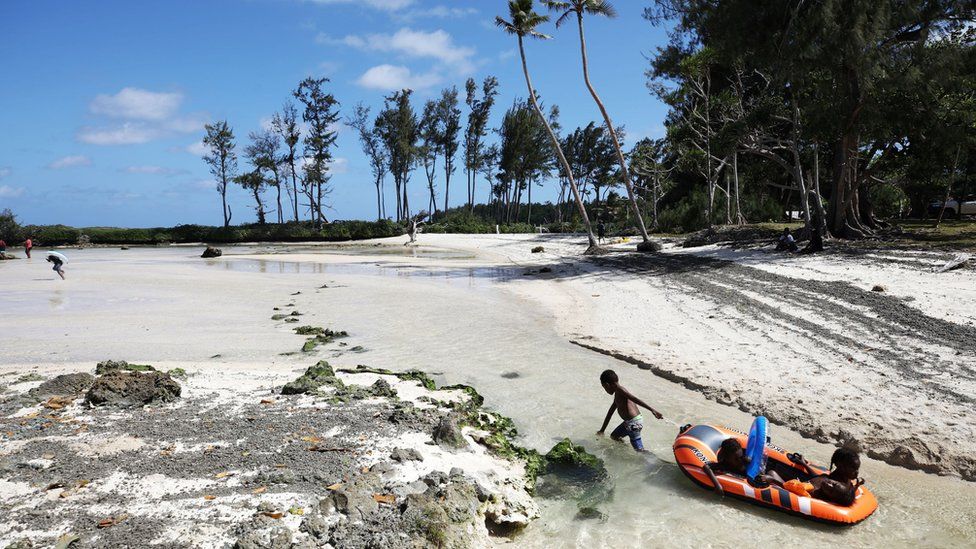 The Pacific Islands are extremely vulnerable to rising seas and strong cyclones, and the oceans are central to their way of life as it underpins their culture, food, livelihoods, and national economies.
"I think climate change is not something that's coming down the line, it's something that we live with, year after year, season after season. The impact that it has on our country is increased severity of hurricanes, storms, floods, but also the other extremes such as drought conditions," Mr Brown said.
"Our message is please hear the voice of the Pacific. Hear the call for greater action on climate change. This message has been repeated in a number of forums over a number of years. But we just have to keep pushing."
They will continue to push this message when Mr Blinken arrives in PNG on Monday where he will meet leaders from the Pacific Islands Forum.
These often-forgotten nations are now having their voices heard on the biggest diplomatic stages in the world.
And they are determined to make the most of it.